From our laboratory comes Blu Solution, a mouthwash based on chlorhexidine, natural extracts and totally alcohol-free, for the maximum respect for sensitive mucous membranes.
More and more people wish to use Natural products that are also reliable and scientifically proven: for this Blu Solution mouthwash combines several active plant ingredients and chlorhexidine, a combination that prevents plaque formation bacterial, is adjuvant to the treatments of periodontal diseases and is suitable for the prosthesis wearers or in the presence of endosseous implants.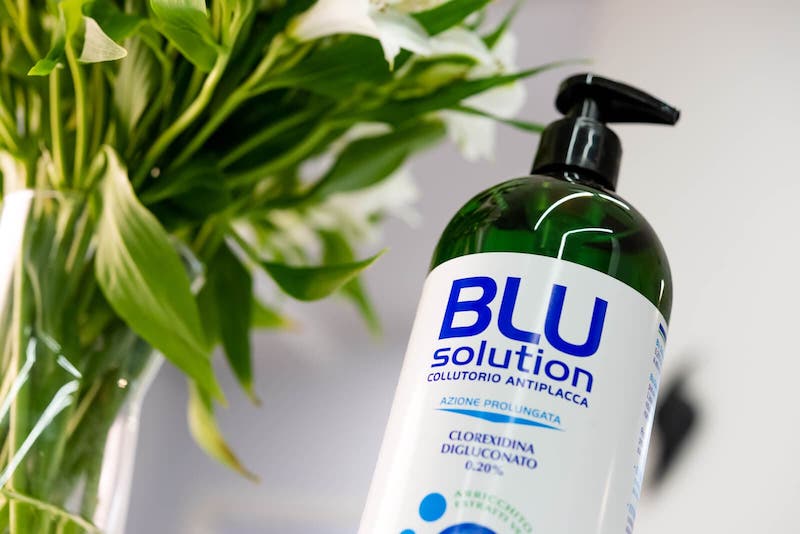 What is chlorhexidine and how much does Blu Solution mouthwash contain?
Chlorhexidine is a antiseptic substance with bactericidal and fungicidal action And is widely used in dentistry.
It is used for preventing tooth decay as well as in the treatment of gingivitis and periodontitis Because it inhibits bacterial growth.
Chlorhexidine also proves useful as a fpreventive armaco against infection Before oral surgery or after tooth extraction.
The Blue Solution Mouthwash Contains chlorhexidine in a percentage of 0.20.
What are the natural extracts in Blu Solution mouthwash?
The natural extracts contained in this mouthwash are widely known for their beneficial properties.
Excerpt from mallow: properties : properties Emollient, protective, refreshing and soothing, carries out a'anti-inflammatory and healing action On the mucous membranes of the oral cavity
Excerpt from blueberry: increases the resistance and capillary permeability, carries out a'antiseptic and anti-inflammatory action on the mucous membranes
Excerpt from chamomile: properties : properties soothing and restorative of fabrics
Excerpt from echinacea: boosts the immune system and has properties anti-inflammatory and bacteriostatic
Why is Blu Solution mouthwash alcohol-free?
Many people do not tolerate mouthwashes formulated with alcohol because. Can cause a "burning" sensation. more or less strong to the mouth during rinsing; this sensation increases if lesions or ulcerations are present in the oral cavity.
In addition, alcohol is also regarded as a Possible cause of the onset of some oral or pharyngeal diseases.
An alcohol-free mouthwash is also safer because. Does not risk damaging any cements, resins, dentures, and aesthetic restorations present in the oral cavity.
What is Blu Solution mouthwash indicated for?
In addition to being suitable in the plaque and caries prevention and as an adjuvant to the treatments of periodontal diseases, its use is particularly suitable:
after interventions of oral surgery
in the case of maxillary fractures With application of means of fixation
before interventions dental
for the plaque control during pregnancy (it is totally Safe for pregnant women and the fetus)
Where can you buy Blu Solution mouthwash?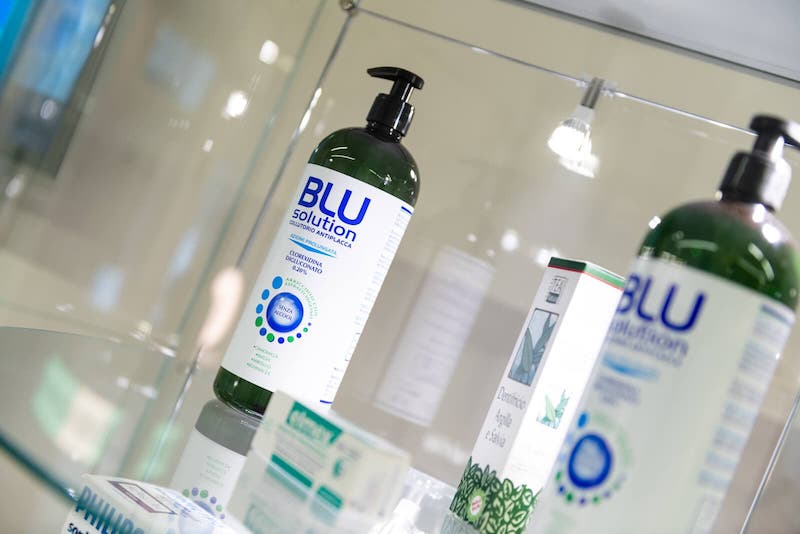 This mouthwash Was conceived by Dr. Mauro Savio and comes sold exclusively at our Dental 1 office of Paderno Dugnano.
For more information about Blu Solution mouthwash, contact us!
[Medical Director: Dr. Mauro Savio, Member of the Dentists Register Provincial Order of Surgeons and Dentists of Milan n. 4168].